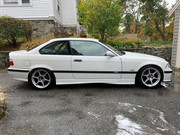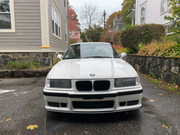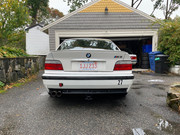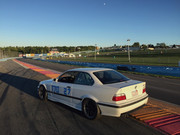 '97 Coupe, Alpine White on black, body/paint is in great shape. "too pretty for a track car"
135k miles
Clean title
Southern car before it came up north 5-6 years ago. It's been a fun car ever since, never driven in the winter. No rust. Enthusiast owned, extensive service and mod records. The car is primary driven to/from track days 6-8 times a year and not driven otherwise. The car has never broken down on or off track, not even a drop of fluid. It's a fantastic track car that safe, reliable, and perfectly streetable. Has cats, no CELs and passes state inspection no problem. I have datalogs with oil temp, oil pres, coolant temp logs from all recent track events.
The car needs absolutely nothing. Ready to tire and fire. My OCD and car-hypochondria is your gain!
$14,500 for everything below.
Interior:
Carpet, door panels, and back seats in tact. Trunk carpets are gone except floor liner.
Radio/speakers intact and functional
Sunroof delete, replaced with fiberglass panel paint-matched. 100% water proof
VSR roll bar fit to sunroofless car
Cobra Suzuka race seats (GT in driver, standard in passenger) w/ VAC floor mounts
Schroth Clubman 6pt harnesses passenger side (1yr old)
Schroth Profi 2" harnesses driver side (brand new 2019)
Factory 3pt seatbelts installed and functional
Momo steering wheel
A/C is deleted
Engine/Drivetrain:
ASC throttle body delete w/ S50 boot
M50 intake manifold with Turner install kit
22RPD custom dyno tune, 231whp
head gasket replaced 2 years ago, i was paranoid about disappearing coolant. Never overheated! ARP head studs, Supertech valve springs, head checked and machined to stock-compliant specs. New valve guides and seals. Ready to drop in big cams!
Gripforce aluminum flywheel with organic clutch (last year)
UUC ssk with jaffster knob
Diffsonline 3.46 LSD w/ 40% static lock
Stromung catback exhaust (also have stock)
Achilles oil pan baffle
Oil pump nut red locktite & wired
oil temp, water temp, oil pressure senders installed
Bimmerworld HD rubber engine mounts
Rogue poly transmission mounts
Suspension/Chassis:
MCS SA shocks (last year, 8 events on them)
600/700lb Hyperco springs
GC Race camber plates
Stock swaybars with poly bushings
E46 ZHP "yellow tag" steering rack
new front lower control arms (2019)
Poly front LCA bushings in stock lollipops
Reinforced stock rear lower control arms
OEM RTAB bushings with limiters
recent balljoints in rear control arms
recent hubs/wheel bearings front and rear
75D subframe bushings
95A poly diff bushings
OEM X-brace
front subframe reinforced
rear subframe swaybar mounts reinforced
RTAB pockets reinforced
Bimmerworld bullet wheel studs
Motion Motorsports under panel w/ radiator baffle
Cooling:
MZ3 radiator
Stewart Warner water pump
new tstat/housing
All hoses (inc heater core hoses) replaced with OEM
Brakes/Wheels:
Hawk DTC-60s front and rear (two events on them)
rebuilt all stock calipers last winter
stainless steel lines
17x8.5" Kosei K1s with 245/40 Conti ExtremeContact DW. Lots of tread.
Extras:
1 set of 17x8.5" Kosei K1s with 255/40 NT01s (two 50% left, two 25% left)
1 set of 17x9" Apex ARC-8s with Hoosier R7s (8 cycles on them)
stock exhaust - good shape
BNIB set of Hawk DTC-60s, front and rear
ballast weight (plates with holes drilled in them) that fit behind passenger seat and/or in trunk
Turner adjustable rear control arms
Extra oil filters, fluids